THE BEAUTY WAR is a landmark venue and art installation capturing the long tradition of popular, immersive art by world-renowned artist SCOTT HOVE.
Based in Los Angeles, the home of entertainment, The Beauty War aims to maximize the market potential of LA's prevalent temporary pop-ups, while adding steadily permanent income streams and infinite potential for revisiting. A production value rivaling that of theme parks and fine art museum exhibitions, alongside thoughtful programming, provide a cultural anchor to a previously transitory – while highly successful – creative business model.
Having worked with Banksy, Playboy, Cirque du Soleil, Mark Ryden, Meow Wolf, the City of Los Angeles, and many more, visionary Scott Hove and producers Think Tank Gallery provide a unique network and skill set to create one of the most exciting interactive environments in Los Angeles.
Click one of the sections below to envision THE BEAUTY WAR with us.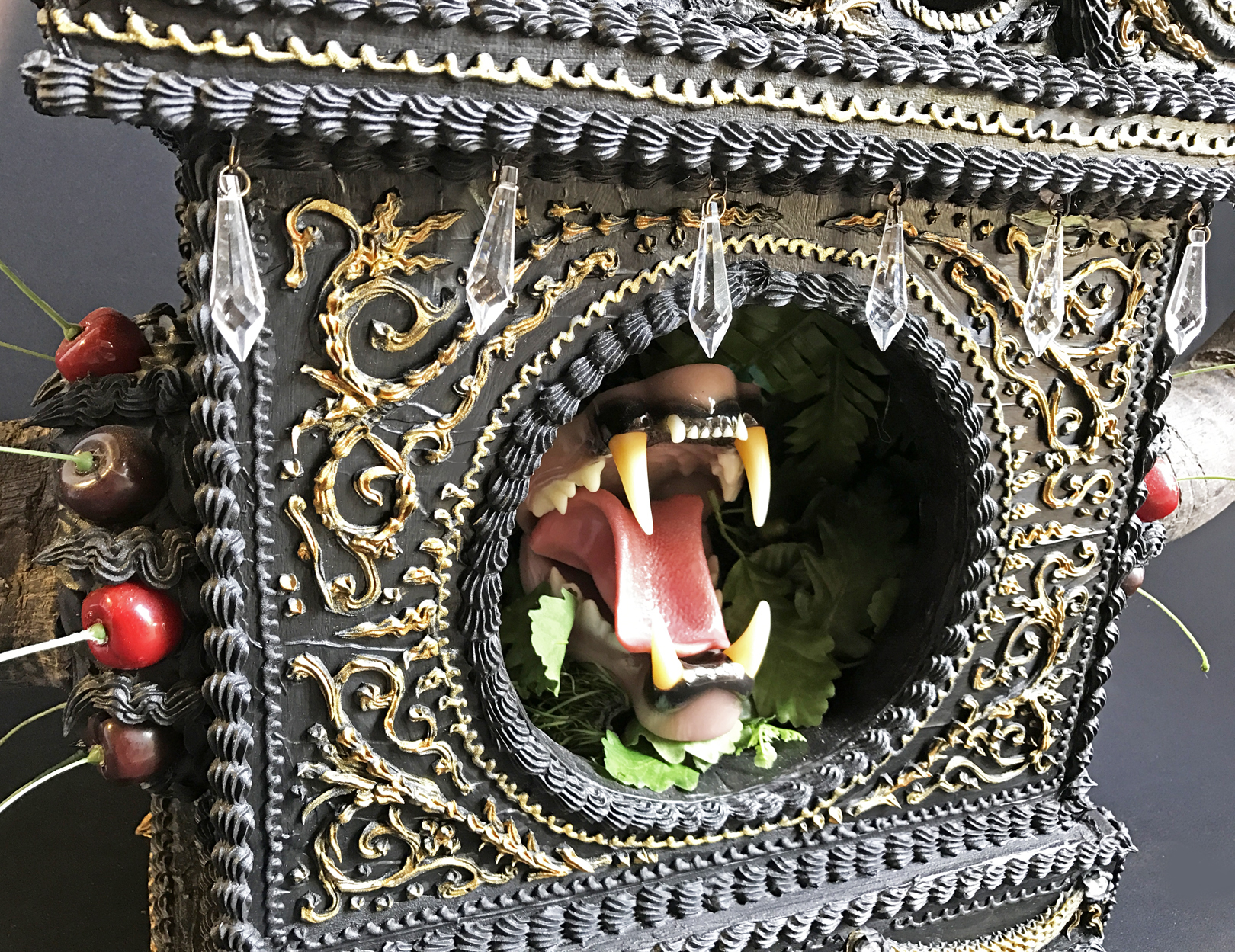 WE'VE DONE THIS BEFORE. SEE HOW.
In 2016, we produced a monthlong installation of this model with Cirque du Soleil, with staggering success.
Check out some of the numbers below, and press play to watch a recap of the month.
Vice Magazine official selection of Think Tank Gallery as Top 25 Most Instagrammable Arts Space in the U.S.
SELECTED COVERAGE (click to open)
The Beauty War is a 13,000sq. ft., evolving, permanent cultural institution. 7,500 sq. ft. of permanent exhibition will showcase Scott Hove's signature cake installations, sculptures, and mirror mazes. Hove's work has been heralded by fine art critics and entertainment reviewers to provide an accessible environment for amateur photographers, while adding an emotional depth that is both light and dark. The Beauty War also features rotating, immersive installations by some of the world's premier artists, many of them Hove's collaborators. To ensure return visitors and consistent media attention, a jewelbox entertainment promotes notable musical acts, performance art, and immersive theater programming – presented alongside LA's alternative arts programming staple Think Tank Gallery/Productions. Unique tech integration, foodie-focused dessert creations, and coveted fine art and merch drops round out the experience to make a rare combination of high-profile, consumer-focused creation.
Pop-up immersive experiences make overwhelming profits at lightning speeds, then disappear. The Beauty War's ongoing programming inside a permanent, invested location capitalize on these markets with ever-repeating revenues, while embracing LA's underutilized space to a degree never seen before.

SOLVING THE POP-UP PROBLEM
"WE CREATE MEANINGFUL – NOT MINDLESS – ENTERTAINMENT"
There are no direct competitors in the LA market. Instead, one can only look toward unfathomably successful pop-up Selfie Palaces that are in vogue. These pop-ups are a vey divisive business model – artists hate them, consumers (and therefore sponsors) love them, and investors are trying to figure out how to maximize the impact of their flash in a pan nature. But expand outward to cities with comparable businesses like those we've listed below – in NYC, Santa Fe, and St. Louis – and the picture is thrilling. The outrageous profits that LA pop-up environments provide are not only exciting, they can be sustainable. And The Beauty War solves the problem they all have (a lack of return visitors) by creating a constantly transforming environment and programming, with a high production value and legitimate, informed entertainment.
Our unique combination of backgrounds in corporate partnerships and programming, fine art world recognition, and cleverly integrated artistic merit fit deceptively well into the ticketed attraction business model, leaving visitors of all intellectual levels satisfied where other attractions aim for only the lowest common denominator.
An attached merch shop, photobooth opportunities, rotating ancillary exhibits with world-renown artists, and cake store with a lush cake-themed bar maximize revenue and return customer opportunities that last far more than the 45 minutes most pop-ups hold audience attention in their single experience. An additional 2,000 sq. ft of administrative areas and 6,000 of onsite production facilities keep the production fresh and enticing with rotating exhibits. The Theater and its thrilling programming keeps guests coming back time and again.
BONUS
CAKE SHOP
To embrace the foodie community that so love's Hove's work, a collaboration with a famous cake maker will produce Hove-directed, edible cakes to be served in the 1950's Diner installation, adding one more Instagrammable moment and revenue stream.
(Below images are examples of Hove's prior small works; TBD edible cake collaborator will create similar works under his direction)
PHOTOBOOTH
They call these things Selfie Palaces for a reason, and the Think Tank made great use of that mindset during the blowout Los Angeles CAKELAND show in 2016. While other Instagram selfie tours offer high-priced, group ticket packages to celebrities or celebrities-in-training for a camera crew to follow them around snapping profile pics, The Beauty War boasts some unique opportunities for monetized imagery. The unique, perspective-bending nature of Hove's installations – and his inspiration coming more from theme parks and Golden Era films than pop-up installations – offers for unparalleled chances at impossible shots. Guests are welcome to take hundreds of photos on their phones as they walk around, or even purchase premium tickets with a professional photographer like other pop-ups, but throughout the installation are interactive photo opportunities only available through on-site purchase and a short line. Imagine roller coaster photo kiosks, except the guests can influence the aesthetic.
On top of that, branding opportunities abound by automatically sharing the images (with logo tags) directly to guests' social media accounts. For our last collaboration with Cirque du Soleil, over 250 photos were shared per day, with many of those images also purchased as prints. It's a nice add-on for consistent revenue and organic marketing, and 100% of profits will be donated to a wildlife conservation charity.
LOS ANGELES LIMITED RUN POP-UPS
This is a statement made by Mayor Garcetti in 2016, and in the last year LA has made huge leaps to emphasize this claim. Think Tank Gallery works directly with the City, having creative directed its Downtown Revitalization crown jewel, Night on Broadway, for three years while also working directly with the City Attorney's Office and LA Building and Safety to revamp the permitting process for immersive productions.
This unfiltered access to the City and its decision makers, and rare knowledge of the City's initiatives to embrace unique productions such as The Beauty War, pairs with decades of experience in building these experiences.
Understanding that the pop-up ticketed attraction is here to stay, but respecting LA's pioneering of production value in the theme park, film, and live entertainment industries, The Beauty War respects an aesthetically educated local arts community while appealing to the millions of international tourists who come to LA each year with sky-high expectations on entertainment.
Throughout it all, the project exclusively employs local artists, fabricators, and small business owners.
Benefits both the local businesses and Los Angeles' highly diverse, skilled workforce and visionaries.
EVENT PERMITTING
Personal relationships with Alcoholic Beverage Control + Los Angeles Police Department – Central Division,
and LA Department of Building and Safety + LA Fire Department by way of LEIA permitting committee.

Our producers have successfully permitted hundreds of events at the selected location.
SCOTT HOVE
Scott Hove's ongoing series of lush 'CAKELAND' installations and sculptures describe an allegorical paradise, where light and dark are reunited In an emotionally compelling narrative. When not exploring the deserts of California and beyond, he resides in his Los Angeles studio with his dog and cake monsters. Hove's work has been included in international ad campaigns and iconic art exhibitions in America, Europe, and Asia.
THINK TANK GALLERY
Think Tank Gallery & Productions is a transient art collective, creative solutions, and production company established in Downtown LA in 2010. They build Molotov cocktail vending machines available to tourists on Melrose Ave, skate parks in galleries, houses made exclusively out of coffee byproducts, and many other site-specific environments. Their goal is for audiences to stumble upon meaningful — not mindless — entertainment, and they have been named by Vice Magazine as one of the country's "Top 25 Most Instagrammable Arts Spaces."